Toshiko Watanabe Exhibition
"Message from Faraway 2022" - Network -
12/5〜12/10, 2022
11:30am~7:00pm(Last day ~5:00pm)
Gallery Hinoki

B・C
http://hinoki.main.jp
Toshiko Watanabe Exhibition
 Message from Faraway 2021"- Cycle of Life
 12.13(Mon)~12.18(Sat), 2021
 Gallery Hinoki e・F
 http://hinoki.main.jp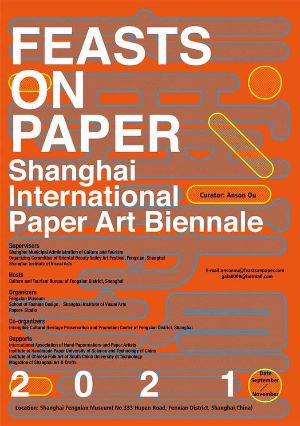 "FEASTS ON PAPER"
2021 Shanghai International Paper Art Biennale
September 25~November 25, 2021
Fengxian Museum, Shanghai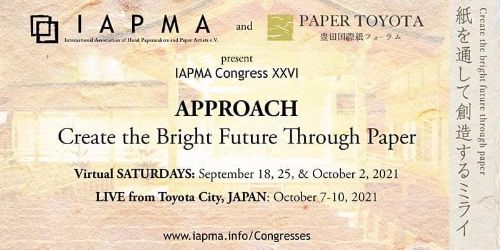 IAPMA Congress 2021 in Toyota
"Approach": Create Great Future Through Paper
Period: September 7~October 17, 2021
Venue: Toyota Municipal Museum of Art, Toyota Folk Craft Museum
MEETING POINT GALLERY IRIYA
- installation by three artists -

Eva Hogberg
Kerstin Svanberg
Toshiko Watanabe

4/6~4/11 2020
12:00~19:00(Last day~16:00)

Gallery Iriya
2-30-2 Kita-Ueno, Taito-ku, Tokyo 110-0013
Tel/Fax:03-6802-8122
gallery_iriya@kkh.biglobe.ne.jp
http://galleryiriya.com

Sponsored by: Scandinavia-Japan Sasakawa Foundation
Nominal Support: Embassy of Sweden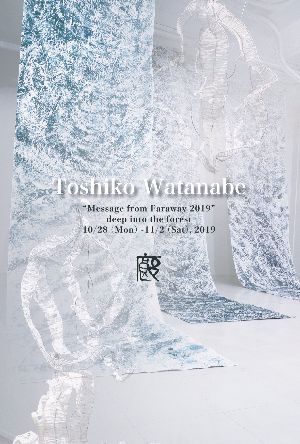 Toshiko Watanabe Exhibition
 Message from Faraway 2019"
 -deep into the forest-
 

Installation using paper works and figures of wires with mulberry pulp

 10/28(Mon)~11/2(Sat)
 11:30~19:30( last day ~16:00)

 Gallery Iriya
 2-30-2 Kita-Ueno, Taito-ku, Tokyo 110-0013
 Tel/Fax:03-6802-8122
 gallery_iriya@kkh.biglobe.ne.jp
 http://galleryiriya.com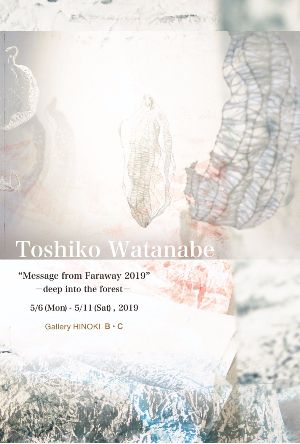 Toshiko Watanabe Exhibition
 Message from Faraway 2019"
 -deep into the forest-
 Installation using paper art works

 Period: May/6(Mon)~May/11(Sat), 2019
 Time: 1:30a.m.~19:00p.m.
    (last day ~17:00)

 Place: Gallery Hinoki B・C
    3-9-9 Kyobashi, Chuo-ku, Tokyo 104-0031
    http://hinoki.main.jp

Contemporary Art from Japan part 3

Venue / Period
● Södertälje konsthall (8th September - 21st October 2018)
www.sodertalje.se/konsthallen
● Gallery Kretsen (September 8 - 29, 2018)
www.kretsen.info
● Gallery Saltskog Gård (September 8 - 29, 2018)
saltskoggard.se

Exhibit content
Contemporary art works such as two dimentional work, three-dimensional work, photograph, video, installation, performance.

Artists
● Södertälje konsthall
Ailin Nakagawa / Asumi Hayashii / Atsush Mizutanii / Etsuko Kawai / Hiroyuki Kimura / Kanako Ishii / Mayuko Yumira / Shogo Miyasaka / Sonoko Mitsui / Takako Ishikawa / Tsuguo Yanai /Yoshiko Sashida / Yoshimi Otsu / Yuko Kurihara / Yuna Tanii
(Select artists by arthall curators)

● Gallery Kretsen , Gallery Saltskog Gård (Sponsored by Sveriges Konstföreningar)
Akiko Kondo /Hitomi Iwano / Shizuko Ono / Shogo Miyasaka /Sonoko Mitsui / Taeko Ukon / Toshiko Watanabe
(EAJAS member)

Organizer by Södertälje konsthall, Södertälje Konstnärskrets
Co-organizer by EAJAS EAJAS OFFICIAL WEBSITE
Sponsored by Sveriges Konstföreningar www.sverigeskonstforeningar.nu
Toshiko Watanabe Official Website

Artist Toshiko Watanabe
I make my art works using Japanese paints, silver paper, and sometimes Indian ink on paper.
One of my styles is dripping which creates incidental forms, and the others is grasping paper with my hands to make wrinkles on paper.
I always work outside.

I will post news of my art activities hereafter.
Thank you for your reading.